FIND THE PERFECT HOME SAFE
Bill's Lock & Key carries a variety of different safes designed to keep your belongings secure.
BILL'S LOCK & KEY IS YOUR GO-TO ALBUQUERQUE LOCKSMITH
At Bill's Lock & Key, our goal is to make your home a safer place to live. That's why whether you're looking for a home safe to protect your valuables or a gun safe to keep your firearms safely locked away, we can help! As a full-service locksmith in Albuquerque, we pride ourselves on going above and beyond to meet the unique needs of each and every one of our customers. We've been serving our community since 1978, and in the past four decades, we've garnered a reputation that we're proud of. When you need a locksmith you can count on, look no further.
Backed by a commitment to serving the New Mexico community, we're proud to offer a variety of different services. Whether you need the locks changed at your business or you need a new key fob for your car, we can help. Of course, one of the most overlooked aspects of safety in a home or business is its safe. Whether you have a safe that you'd like to upgrade or you're considering your first safe, our team of experts is here to help. Perhaps you have a specific idea of what you need in a safe. Maybe you're not quite sure which option is best. Either way, our helpful team of experts will work with you to make sure you find the safe that is perfect for you. We have a showroom full of options to choose from, but if you prefer something specific, we can order it for you.
At the end of the day, our mission is to help you keep your belongings safe. Whether you're storing money, important documents, family heirlooms, or something else entirely, our home safes are the perfect way to protect the things that are the most important to you. With safe options including lock and key, rotary combinations, or electronic keypads, we're proud to offer something that's perfect for every situation. Learn more about the safes we offer below, and if you're in need of some extra security around your home or office, contact us today to schedule an appointment. We'll be here to help when you need it the most.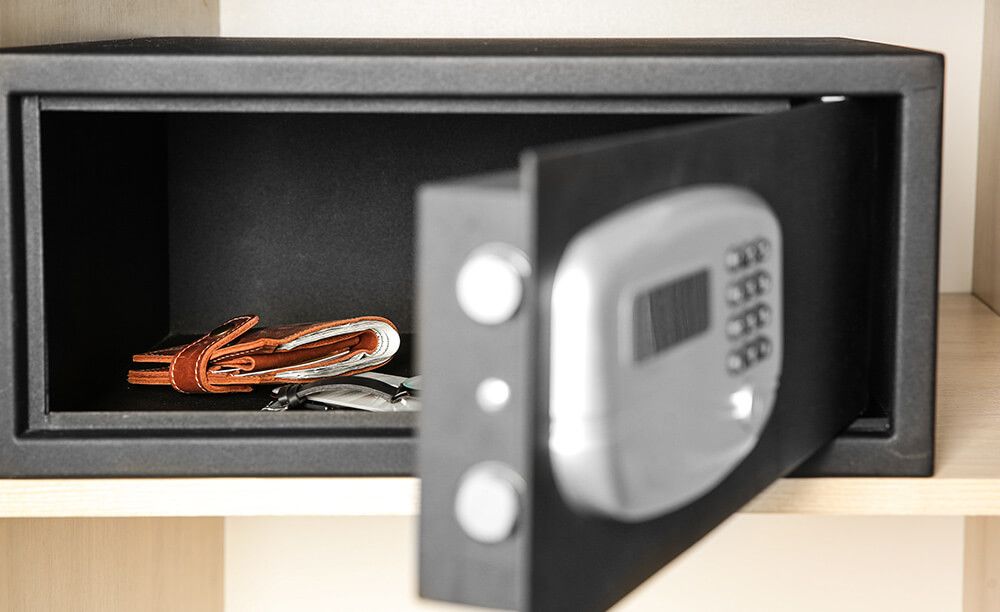 BILL'S LOCK & KEY IS PROUD TO OFFER:
Home Safes
Gun Safes
Commercial Safes
Lock Options
Safe Services
And More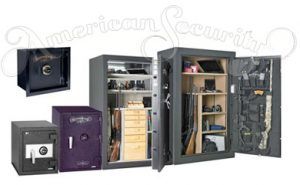 HOME SAFES AND SECURITY
Bill's Lock & Key, Inc. proudly stocks American Security products. AMSEC is the world's best-known provider of security safes. AMSEC began in the 1940s and has over 75 years of expertise to bring to bear to satisfy your home and business safe needs.
We carry safes for your home and for your commercial venture. We have a large showroom and if we do not have it in stock, we can order it for you. We carry home safes, gun safes, and much more. amsecusa.com
Safes for the Home
For the home, we carry security safes for money, documents, jewels, as well as specific gun safes. These safes can be as small as a money box or as big as a closet for guns and other large items. Protect your loved ones and keep your valuables and sensitive items secure with a sturdy, reliable home safe.
Commercial Safes
We also sell safes for all sorts of commercial needs. Any of our safes, from wall safes and floor safes to large vaults, can be used for commercial purposes. Whether you're in charge of a for-profit or nonprofit business, or you head a government agency or other organization that could benefit from keeping certain items secure in a safe, contact us. Hotel room safes can also be ordered and installed through us.
Lock Options
We offer safes with one of three types of locking devices. You can choose from a lock and key, a rotary combination, or an electronic keypad device. We can help you decide which is the right device for your specific needs.
Safe Services
Besides selling safes, we also service them. New safe or old, we can provide safe service, combination changes, moving services, bolt downs, electronic dial retrofitting, and that all-important opening of a safe for which you've lost the combination. Our safe technicians are certified Safe and Vault Technicians Association members. Please do not try to move your heavy safe yourself. Our staff has the right experience and training to complete the job successfully without damage to any property and without risking any injury.
What's more, for your convenience, we are a 24-hour locksmith.
Call Bill's Lock & Key Locksmiths for all your residential and commercial safe needs in the greater Albuquerque region, including the many surrounding communities. Whether you're looking for a home safe or a heavy-duty commercial safe, we can help you! Get in touch with us today for reliable, helpful safe services.
amsecusa.com