THE ALBUQUERQUE 24-HOUR LOCKSMITH YOU CAN TRUST
At Bill's Lock and Key, we bring over 40 years of experience to each job we undertake. Learn more about the services we offer below or contact us today for 24/7 locksmith services you can trust.
YOUR 24/7 LOCKSMITH
There's nothing worse than being locked out of your home, business, or vehicle, and that's why the expert Albuquerque locksmiths at Bill's Lock and Key are available to offer assistance 24 hours a day, 7 days a week. We know just how difficult it can be to find yourself in such a frustrating situation, and that's why when you choose to call us, we'll make your emergency our top priority. No matter your needs, we can help!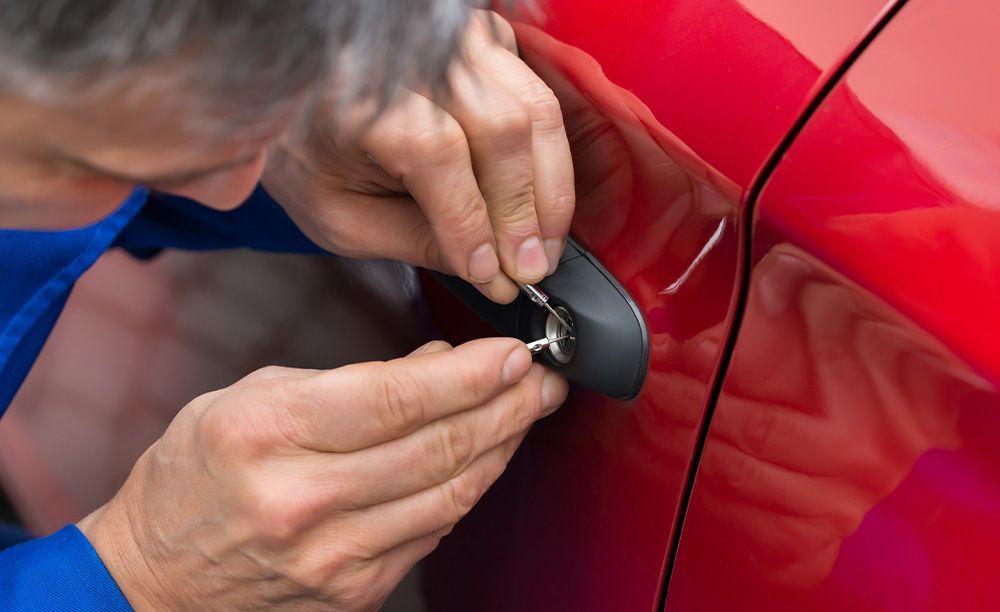 WHY CHOOSE BILL'S LOCK AND KEY?
We offer a variety of services including car key replacement
We've been a trusted name in our community since 1978
We are available 24-hours a day
We use the latest technology for our locksmith services
We're bonded and insured
We never subcontract our work

At Bill's Lock and Key, our 24/7 services are designed to provide you with help when you need it the most. Locked out of your car? Need a replacement key? Have to replace your key fob? We're the team to turn to for help.

Planning to replace the locks at your home? Lost your keys? Our residential locksmiths are here to lend a hand.

Need to change your safe combination? Want to upgrade your security? We offer commercial locksmith services.
EXPERT HELP WHEN YOU NEED IT MOST
At Bill's Lock and Key, we understand that emergencies happen when you least expect them to. Sometimes that means realizing you lost the keys to your house after you're already home and you can't get in. Other times it's because you accidentally locked your keys in your car. At the end of the day, no matter the situation you're in, no matter the time of day or night, we'll be here to answer your call. In other words, when you call us, you'll receive industry-leading service from a friendly, knowledgeable team that can help any time.
Since 1978, Bill's Lock and Key has served Albuquerque and the surrounding communities by providing trusted services that use the latest technology to ensure the job gets done the right way every time. Best of all, we don't subcontract the work we do — instead, you'll be working directly with a trained member of our team who will arrive in a Bill's Lock and Key vehicle and wearing one of our uniforms.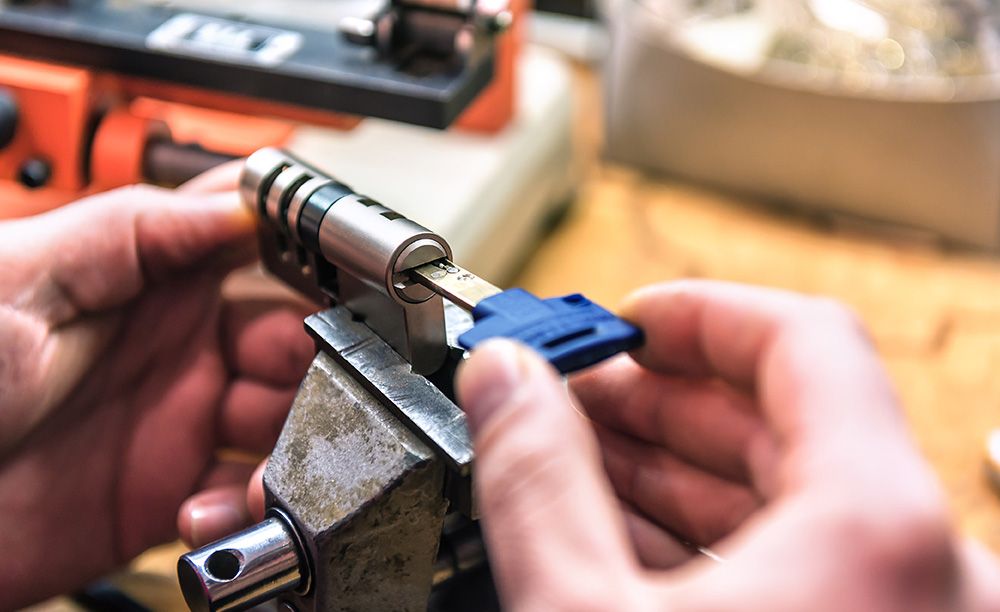 THE LOCAL LOCKSMITH YOU CAN TRUST
Whether you found us because you searched for "locksmith near me" in your time of need or we were recommended to you by someone you trust, we want you to know that when you choose to enlist our help, you'll be working with the best of the best.
Finding a good locksmith can be a challenge, and with so many frustrating situations that come up, it's important to choose a team taht you can trust. Although many other locksmiths choose to subcontract their work, sending you poorly trained or unprofessional contractors to try to figure out your situation, that's not how we do things. With four decades of experience, we pride ourselves on our locksmithing expertise. We've seen it all, and that means we are well-equipped to solve any problem that you're facing.
THE BEST 24-HOUR LOCKSMITH SERVICES IN ALBUQUERQUE
Whether you're in need of car key replacement, upgraded locks for your business, or someone to get you into your car, home, or business after being locked out, our team of experts is here to help! Over the past 40 years, we've developed a name for timely, trustworthy, friendly service that you can rely on in your time of need. As a small business, we know how important it is to do things the right way, and that's why when you call Bill's Lock and Key, you can rest assured that you'll be working with people who genuinely care about what they do. We feel honored to be able to serve the people of Albuquerque and we'll go above and beyond to show you the meaning of great customer service.
The Best 24 hour Locksmith Services in Albuquerque
SERVICES WE OFFER
RESIDENTIAL
As residential locksmiths in Albuquerque, we can help with everything from getting you in when you're locked out, re-keying your home, installing electronic deadbolts, and much more. No matter your needs, we're here to help 24/7 with unsurpassed service.
COMMERCIAL
As commercial locksmiths, our top priority is to make your business a safer place for everyone. Whether that means installing a new safe, upgrading your locks, or assisting with locking display cases, our mission is to ensure that your business is well taken care of.
AUTOMOTIVE
Knowing a good automotive locksmith can make all the difference in the world. Whether you're locked out of your car, need a car key replacement, or want a spare key fob, we can help. We also specialize in motorcycles, scooters, and ATVs. With our experience, there's no situation we can't handle.
WHAT TO LOOK FOR IN A LOCKSMITH
Have you ever had a bad experience with a locksmith? If so, you're not alone. In fact, scammers and illegitimate operations are on the rise. Although it can be easy to fall for locksmithing scams, we're here to let you know what you should be on the lookout for.
Unfortunately, scammers often choose to prey on people during their time of need. That's why you'll often find companies that promise a low estimate, come to solve your problem, and then suddenly demand more money. If this doesn't happen, it's often that they can't solve your problem, but they still want you to pay them for a service call.
At Bill's Lock and Key, that's not how we do things. Our best advice is to keep a reputable locksmith in mind before you require their services. Thankfully, when you choose to call us, we'll go above and beyond to provide you with exceptional customer service and quality results.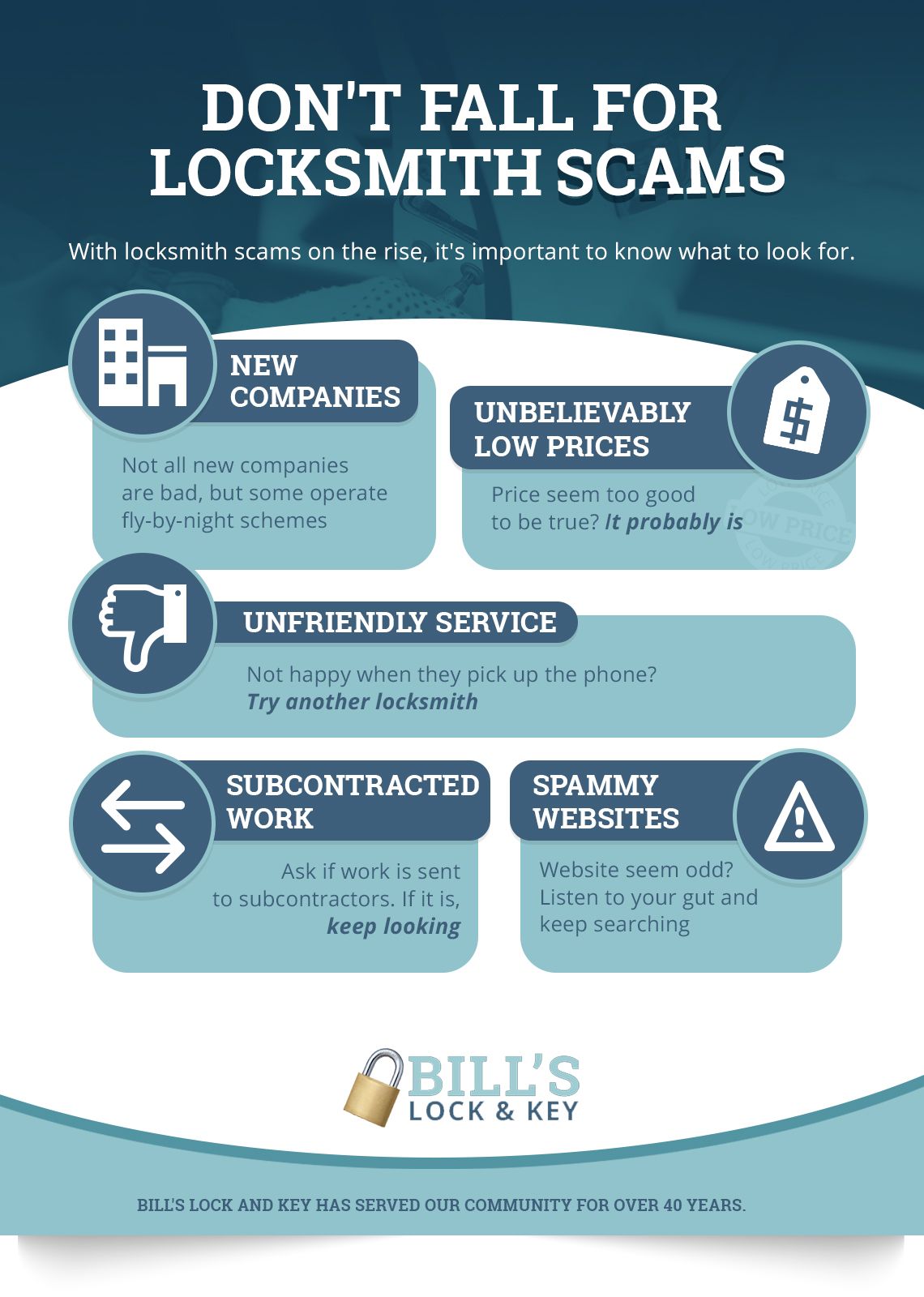 WHAT TO EXPECT WHEN YOU CALL US
As we mentioned above, finding the right locksmith can be challenging. But what can you expect when you call Bill's Lock and Key? Simply put, you can expect us to answer your call any time of the day or night. We pride ourselves on being there for our customers when they need us the most!
You can also expect prompt, courteous, knowledgeable service. Each of our locksmiths is trained to handle any situation that comes our way, ensuring that you're never left high and dry. In fact, the word "can't" isn't in our dictionary.
We know that people depend on companies like ours, and that's why we're fully committed to excellence in everything we do. Whether it's helping someone who lost their keys or replacing locks throughout an entire house, we take great pride in our work and we believe that there is a lot of value in a job well done.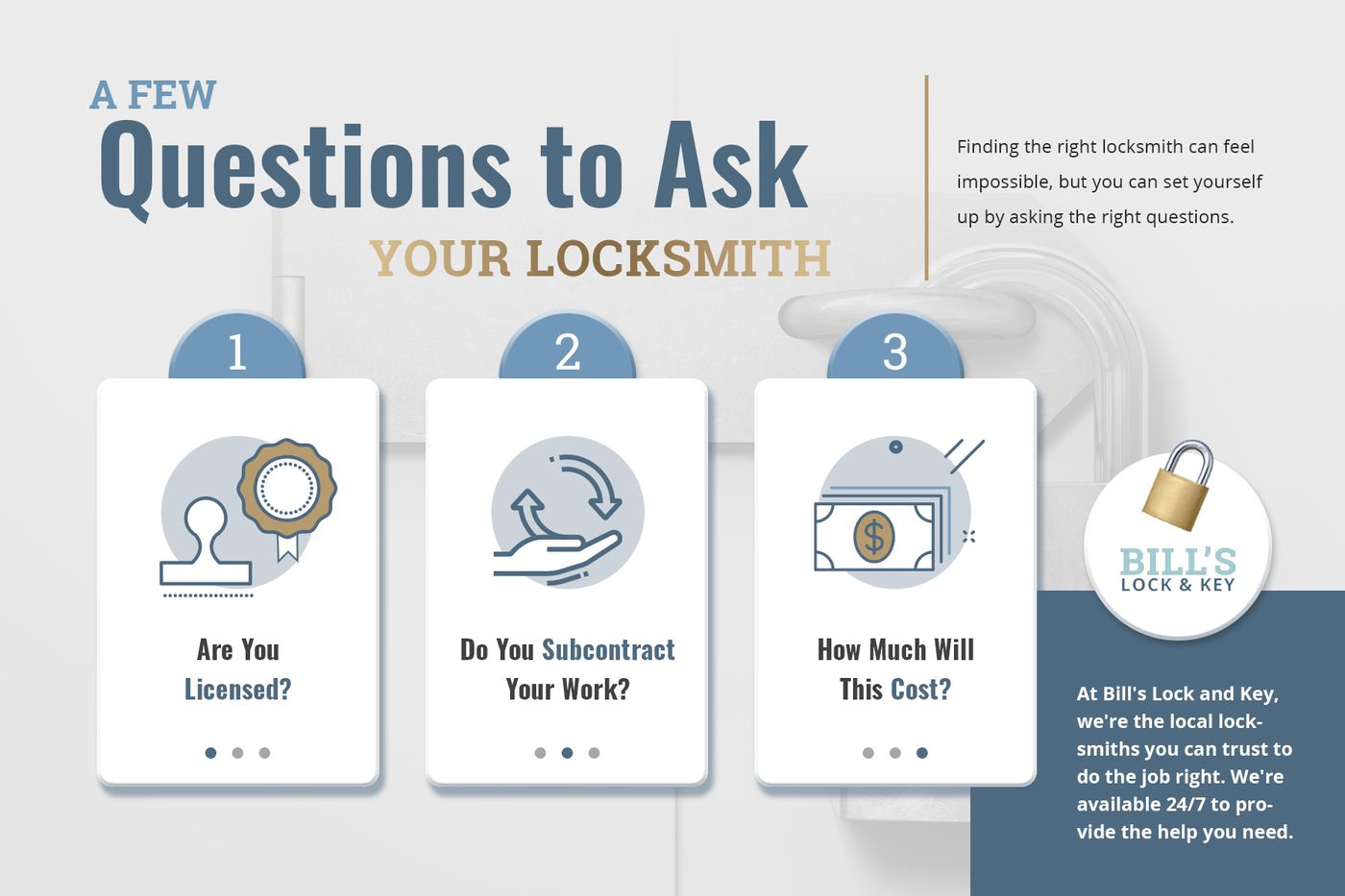 CONTACT US TODAY
Have a question for the team at Bill's Lock and Key? Need to enlist our services? Whatever the case may be, we'd love to lend a helping hand. When you choose to work with us, we'll show you what four decades of experience means, getting the work done efficiently so you can get back to your day. It doesn't get much better than that!